Course details
120 minutes All you can drink ◆ Monthly Chinese Chinese full course 5530 yen → 5300 yen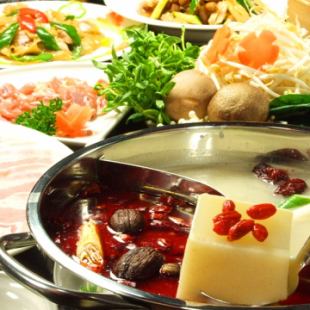 All-you-can-drink available

We prepare various kinds.All-you-can-drink for 120 minutes!
Available days for reservation

Monday - Sunday - Public holidays - Holidays
120 minutes with all you can drink! Boasting hot pots can eat luxurious ingredients including luxury lamb meat and Hiroshima-made King pork.It is a little luxurious course of all seven items including authentic Sichuan cuisine!
Course menu
◆ Jellyfish and cucumber garlic sauce
Stir-fried pork loin and garnet bud
◆ Homemade collagen plenty meat juice Small dragon pack or baked dumplings
◆ Pharmacy kit
· High grade lamb meat
· King Pork from Hiroshima
· Collagen ball
· Assortment of seasonal vegetables
◆ Deep bamboo charcoal noodles or rice cook
◆ Homemade dessert you can choose
(Annin Tofu or Matcha Annin or Mango Pudding)
◆ Chinese tea
※ For cooking only (2 people ~), per person ¥ 3980
All-you-can-drink menu
· Beer · Shochu
· [Beer] beer / non alcoholic beer all free [shochu] potato / wheat / shiso / Chinese tea cocktail
·sour
· Giant Peak / Plum / Lemon / Lychee / Calpis / Oolong High
·Cocktail
· Cassis Soda / Campari Soda / Yogurt Soda / Yogurt Orange / Gin Tonic / Zim Buck / Vodka Tonic / Mosculureur
· Japanese sake · plum wine
· Japanese sake / plum wine
·Soft drink
· Chinese Green Tea / Jasmine Tea / Zao Tea / Iron Kannon Tea / Chrysanthemum Tea / Roses Tea / Coke / Gingeraire / Oolong Tea / Orange Juice / Grapefruit Juice / Apple Juice
· Others
· Shaoxing wine / Chinese white sake / high ball / glass wine
2019/01/22 update